Hey what's up guys, this is your newest web editor at Inline and Ice Warehouse Chase. I took a trip to Easton Headquarters last Friday to get an inside look at the RS II stick line. Upon arriving, I got to see first hand that the Easton staff literally eat, sleep and breathe hockey; I was honestly a little jealous but I can't complain one bit working here at IW. Product Manager Mike Mountain ran me through the ins-n-outs of the RS II stick line, dissecting each and every piece of their design. His expertise and comprehensive knowledge made for a far more than an eye-opening experience.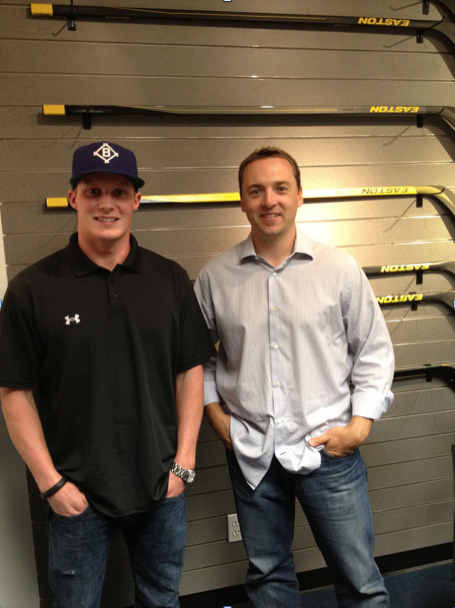 Since I first started playing the great game of hockey, I have always used an Easton shaft or stick.  From the Ultra Lite Shaft, the Z-Bubble shaft, the first generation Synergy one-piece, the first generation Stealth one-piece, the S19 one-piece to today's Mako one-piece; Easton has been held by my gloves for the 10+ years I've been playing.

As we all know, Easton has continually been pushing the envelope to develop cutting-edge technology in their equipment. The first generation Synergy one-piece stick forever changed hockey.  I still remember using mine for the first time, I was so excited when my dad got it in the mail during a club ice practice that  when he handed it over the glass I didn't even tape it up. I knew from the first shot, even though it was too tall for me because the end-plug was still in, that this stick was a game changer.  Easton has not strayed from the ideology of game-changing advances to make the hockey player able to be better and better. From the elliptical taper used in the RS II stick line to one-piece Gyro fit E700 helmets, Easton is persistent to staying true to it's cutting-edge developments. The advances we see in today's sticks were not of thought as remote possibilities in the past but today they are taken as common commodities and we look to the future thrilled to see what's to come next in stick technology.