As the 2013 Stanley Cup championship rolls closer to the end, I wanted to briefly highlight and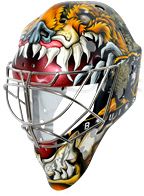 compare the final two Cup goaltenders, Tuukka Rask of the Boston Bruins and Corey Crawford of the Chicago Blackhawks. Rask and Crawford come to the playoffs with two vastly different playing styles proving that both styles of play are extremely effective. Crawford's stereotypical butterfly style goaltending primarily focuses on form and positioning, consistently dropping down into the butterfly position as the primary line of defense. Rask's hybrid style of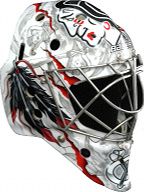 play however is more reactive, making a majority of saves from the goaltenders athletic talent, quickness and mobility. Differences in goalie gear and more specifically the goalie leg pads clearly define the goaltenders playing style. Crawford's Reebok Premier goalie pads are designed specifically for butterfly goalies, providing a large flat-faced design and stiffer construction ensuring maximum coverage. Rask's Vaughn Velocity hybrid pads features a dramatically softer construction with multiple breaks throughout the internal construction ensuring maximum flexibility and mobility.
Tuukka Mikael Rask was born March 10, 1987 in Savonlinna, Finland. Tuukka talks about much
of his success and success of Finnish goaltenders coming from Finland coaching. At just 6 years old Rask had his first goaltending coach while playing on youth teams in his hometown club SaPKo. Rask was the top ranked European goaltender in the 2005 when the Toronto Maple Leafs drafted him as their first round pick, 21st overall. Before playing a single regular season game, Rask was traded to the Boston Bruins on May 5 2007 with the signing of a three-year contract.  Rask signed a two-year extension to his contract in the 2011-12 season and on June 28th, 2012 Rask resigned with the Bruins on a one-year, $3.5 million dollar deal. Rask's hybrid style of goaltending has proven to be extremely effective and after his original coaching 20 years ago, he's found his home between the pipes for the Boston Bruins.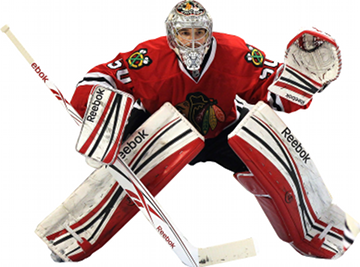 Corey Crawford, born December 31, 1984 in Châteauguay a suburb of Montreal Canada. Often referred to as "Crow" by his teammates and fans, Crawford spent his early years playing for various pre-junior and junior teams throughout his early career years until he was drafted 52nd overall in the 2003 NHL Entry Draft by the Chicago Blackhawks. After many years signed with the Blackhawks and various games played, Crawford was finally promoted as the number one netminder following the 2010-11 season after losing Antti Niemi to San Jose and Cristobal Huet to the Swiss league leaving Crawford and veteran backup Ray Emery the chance to secure the starting position. Crawford, showing vast improvements was able to secure the lead goaltending position and signed a three-year $8 million dollar contract extension with the Blackhawks after he was named on the all-star rookie team.
Both Tuukka Rask and Corey Crawford have shown outstanding athleticism throughout the 2012-13 season and as the Stanley Cup playoffs continue, one things for sure only one goaltender will be taking home the Cup!