The new Mission SLYDE Goalie Leg Pads are finally available and come with innovative Pro-Rated performance enhancing technology.  Roller hockey goalies have always been at somewhat of a disadvantage because of surface friction, limiting leg pad slide across the crease. Roller goalies naturally adapted by learning to hop laterally across the crease but this leaves them more susceptible to lower shots. The Mission
SLYDE leg pads improve a goaltenders lateral side-to-side movements and mobility by placing strategically positioned slide bars in areas of amplified resistance. With this new technology, roller hockey goaltenders will be able to slide across the crease using conventional ice hockey moves.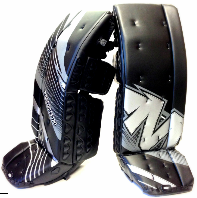 The Mission SLYDE Series goalie pads are available in two stock colors, white/black/silver and black/white/silver. Mission's new edgy design flows across both leg pads in one continuous pattern making the leg pads seem larger. Mission's SLYDE goalie pads are not completely new however; Mission used the Bauer One80 goalie pads as the foundation, but by incorporating Mission's new SLYDE technology the overall design has been enhanced for roller hockey specific goaltending.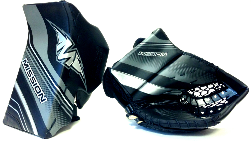 If your looking for a matching set of goalie pads, Mission has you covered with their SLYDE goalie catcher and SLYDE goalie blocker. Lightweight HEX foam protection and other small tweaks provide roller hockey goaltenders improved performance and protection.
Mission's new SLYDE technology allows roller hockey goaltenders to make saves only dreamed of before! For more information on Mission's new SLYDE goalie pads check us out online at InlineWarehouse.com.