It's that time of the year around the Warehouse where sneak peeks are coming out left and right. Well here is the exclusive sneak peak at the 2013 Tour Fish BoneLite Pro skate. This bad boy is going to be headlining the 2013 Tour Skate line with the BoneLite 750 and Bonelite 725 following suit with somewhat similar designs like the BoneLite Pro.
The Fish BoneLite Pro skates are going to come in two color schemes. The first one is dark themed; black quarter package and black Labeda Eviction frames with bright green accents. The second color scheme looks like it will be a "limited edition" colorway; whited-out quarter package and whited-out Labeda Eviction frames with bright green accents as well. Sitting inside of the Eviction frames regardless of color, there is four Labeda Addiction wheels with new Bevo Gold 9 bearings. The all-white look seems as if Mission might have rubbed off on them, nonetheless it's an aggressive clean look. Using history as a reference, the intricacies of the stitching on the quarter packages raises some questions about durability but only time will tell.
For 2013, Tour went a new direction with the liner and tongue construction. The tongue uses a nice HD foam insert for protection but they redesigned the tongue's shape in order to flex and move better than previous models. The eyelets were also moved forwards in order to get a better "wrap" around the ankle. The liner got a nice upgrade with the Accu-Aire liner that increases ventilation and breathability throughout the boot. Working together with the Accu-Aire Liner, the addition of lower heel vents should help increase the ventilation a good amount as well.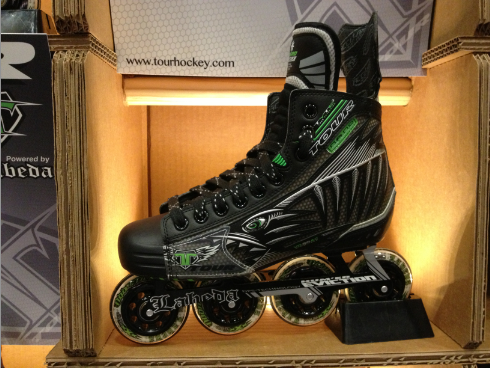 Look out for more information and details on these Fish BoneLite Pro Skates as well as the BoneLite 750 and Bonelite 725 coming soon to InlineWarehouse!