Bauer will continue to offer inline skates for the upcoming season, and their top end Vapor APXR doesn't disappoint. Bauer inline skates have been getting better year after year and they have a great line up for Fall 2011. Keeping with the roller hockey tradition, the APXR skate definitely has some flash. Bright orange accents can be found on the boot, chassis, wheels and laces. What's the hype all about? The APXR has some of the most advanced materials and construction ever used on a roller hockey skate. Here's a break down of the APXR:
The APXR Boot:
When I grabbed the APX I almost hit myself in the face because it's so light. The  The APX has an almost identical build as the APX ice boot, and the 3D Alive Composite allows the skate to be light and very stiff. This makes the APXR a deadly combination for increased responsiveness and performance. The X-Rib in the heel area provides structural support and stability for the foot. This support translates to faster acceleration and tighter turns. Bauer slapped an aluminized glass composite outsole onto the bottom of the boot which is also super light and rigid.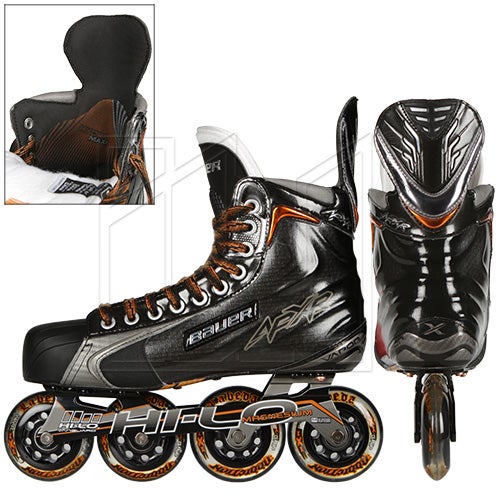 With such a stiff skate, extra details to comfort are necessary. The APXR features a Hydra Max 2 liner. This 2 piece liner is one part moisture wicking and one part abrasion-resistant. When combined together, the 2 parts add up to one superior liner that keeps you dry and locks your heel in tight. The Form Fit 2 Tongue is a thick felt tongue with lace bite channel and HD metatarsal guard.
The Magnesium Hi-Lo Vanguard Chassis:
Magnesium Alloy

2-76mm (front) 2-80mm wheels (back)

Hi-Lo wheel set up

Ideal combination of speed and control

2-piece square axle
Labeda Addiction Wheels:
Labeda's most advanced wheel to date. The Labeda Addicition wheel offers a new concept in wheel making.  The Addiction wheel is an indoor wheel designed for tile surfaces (ie Sport Court), but it has an outer urethane hardness between 83-86A! That's right, an indoor wheel with an outer hardness harder than most outdoor wheels.  So you know the durability and the speed is going to be incredible with these wheels and they should be at this price.  The question is though, how's the grip?  Well, that's where Labeda's top secret urethane combinations and inner core design take over and deliver unbelieved grip.  These Addiction hockey wheels grip better than some of the softest wheels on the market!  The Labeda Addiction wheel offers unsurpassed, all-around speed and grip.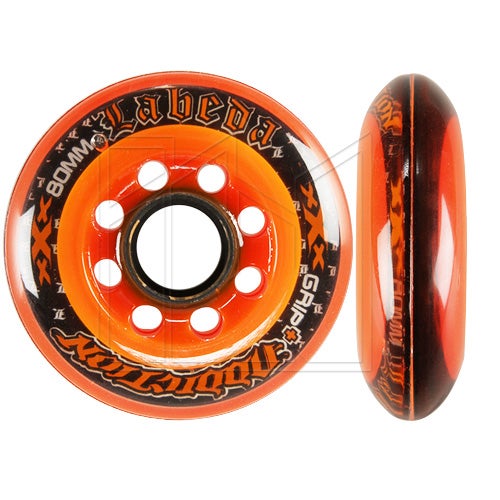 Where do you get the newest Bauer Skates?
InlineWarehouse.com of course!