So we're a week and a half into the shortened NHL season and it's time to break down which sticks are the weapons of mass production thus far. While it may be the players' talent that puts the puck in the back of the net, one can always dream that his or her twig has the potential to be a top scorer in the NHL. For time purposes, I'm just going to include the top 15 scorers in the NHL which includes all players with 4+ goals.
1. Patrick Marleau – 9 Goals
This man is a scoring machine. Marleau has led the San Jose Sharks to a perfect 5-0 start to the season and in the process became the second player in NHL history to start the season off with 4 consecutive multi-goal games. His streak broke on Sunday with his single goal night against Colorado. And of course his stick… The Warrior Covert DT1!
Total:
(Pretty good start for Warrior)
2. Zach Parise – 5 Goals
Parise assumed the top scorer position on his new Minnesota Wild team with 5 goals and 4 assists. His weapon of choice… the Easton RS II!
Easton RS II: 5
3. Marian Hossa – 5 Goals
The Blackhawks' leading scorer rocks the CCM U+ Crazy Light since he is a CCM sponsored player.
CCM U+ CL: 5
4. Marian Gaborik – 5 Goals
This IW player of the day for his hatty last week amassed two more goals with his discontinued Easton EQ50.
Easton EQ50: 5
5. Daniel Winnik – 5 Goals
Recently signed by Anaheim after his release from the Sharks, Winnik is doing work with his Bauer TotalOne NXG down with the Ducks.
TotalOne NXG: 5 Goals
6. Jeff Skinner – 5 Goals
The 2011 Calder trophy winner leads the Carolina Hurricanes in scoring with his Bauer Vapor APX.
Bauer APX: 5 Goals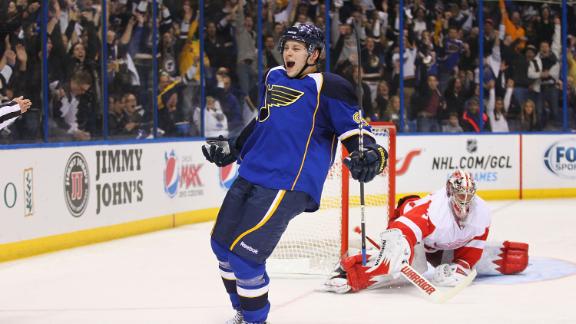 7. Vladimir Tarasenko – 4 Goals
A week and a half in and already a Calder candidate in my opinion. This rookie is tied for the lead in scoring on the Blues with his Reebok 20K.
Reebok 20K: 5 Goals
8. Eric Staal – 4 Goals
The Carolina Captain picked up 4 goals with our first repeat stick of the blog: the Bauer TotalOne NXG
Bauer TotalOne NXG: 9 Goals
9. Dany Heatley – 4 Goals
Easton Athlete Dany Heatley scored his goals with the Easton RS II.
Easton RS II: 9 Goals
10. Steve Sullivan – 4 Goals
Yet another RS II user with Phoenix's  Steve Sullivan. And the RS II takes the lead!
Easton RS II: 13 Goals
11. Andrei Markov – 4 Goals
Montreal's blue liner is the only D-man in the top 15. What's crazy is that 3 of his 4 goals were game winners scored by his classic Easton Mako.
Easton Mako: 4 Goals
12. Kyle Turris – 4 Goals
Finally, we see a Bauer Nexus in the mix. Turris began his second season with the Senators strong and also after switching from the Warrior Widow.
Bauer Nexus 1000: 4 Goals
13. James Neal – 4 Goals
Yet another original Easton Mako. Interesting that we haven't seen any Easton Mako II's yet.
Easton Mako – 8 Goals
14. Zack Kassian – 4 Goals
In his second season with the Canucks, he leads their goal scoring above the Sedin twins with his Reebok 20K.
Reebok 20K – 9 Goals
15. Chris Stewart – 4 Goals
Ooh and at #15 Chris Stewart and his Custom TotalOne NXG ties the stick score up at 13.
Final Totals:
1. Bauer TotalOne NXG: 13 Goals
1. Easton RS II: 13 Goals
2. Warrior Covert DT1: 9 Goals (Marleau)
3. Reebok 20K: 9 Goals
4. Easton Mako: 8 Goals
We'll check back in later on down the road to see where these totals stand. On a completely unrelated note, if there's a volunteer that wants to add up every goal scored by every player and record which stick they used, that would be great.